I Enjoy Being a Ringler Consultant Because...
"The Structured Settlement profession allows me to make a positive difference in people's lives."
Introduction
Michael Casey is manager of the Chicago office. He was previously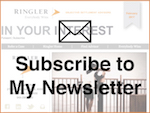 Chairman of the Board of Directors for Ringler, and now serves as Chairman Emeritus.
Michael has more than 30 years of claims and structured settlement experience. He joined Ringler in 1981.
Education
B.S., Business Administration, St. Mary's College, Winona, MN
History
Commercial Union, Midwest Regional Claims Manager
American Reserve (Chicago Excess and Surplus Operation), Assistant Vice President
Liberty Mutual, Adjuster
Memberships
Chartered Property Casualty Underwriters (CPCU)
National Association of Life Underwriters (NALU)
National Structured Settlements Trade Association (NSSTA)
Michael on Ringler Radio
Myth vs. Fact: The Civil Justice System
Ringler Associates Celebrating 40 Years in Structured Settlements
Back to Bio
Refer A Case To Michael Casey
To refer a case to Michael Casey, please fill out the form below. Please be sure to include all pertinent information. Michael will get back to you shortly.