I Enjoy Being a Ringler Consultant Because...
"When my sons were very young and wanted to know what I did for a living, I told them simply that 'I help people'. The structured settlement product is a good thing."
Introduction
Michael began with Ringler in the Newport Beach office in 1996.  He has been the Managing Consultant for the Costa Mesa office of Ringler from 2007 to the present.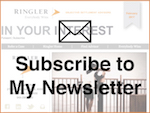 Prior to joining Ringler, he served as the Special Products Liability Claims Coordinator for the Western United States at Home Insurance. He worked in the insurance claims industry from 1983 to 1996.
Specialization
Physical injury
Non-Physical Injury
Products Liability
Workers' Compensation
Medical Malpractice
Elder Abuse
Mass Torts
Punitive Damages
Employment
Attorney Fee Periodic Payments
Education
B.S., Public Administration (with options in Marketing & Political Science), California State University, Long Beach
Masters Certificated Structured Settlement Consultant, Notre Dame University, South Bend, Indiana
Memberships
American Board of Trial Advocates (ABOTA)
California Applicant's Attorneys Association (CAAA)
Consumer Attorneys  Association of Los Angeles (CAALA)
Council on Litigation Management (CLM)
Defense Research Institute (DRI)
Orange County Trial Lawyers Association (OCTLA)
Risk and Insurance Management Society (RIMS)
Mike on Ringler Radio
Structured Settlements and Insurance Companies
Affordable Care Act and Structured Settlements
Attorney Fees and Deferred Taxation
Personal Info
Married with two sons
Helping Hands Community Service Ministry, Orange County Area
Alzheimer's Association, Orange County Chapter Volunteer
Back to Bio
Refer A Case To Michael Zea, MSSC
To refer a case to Michael Zea, MSSC, please fill out the form below. Please be sure to include all pertinent information. Michael will get back to you shortly.